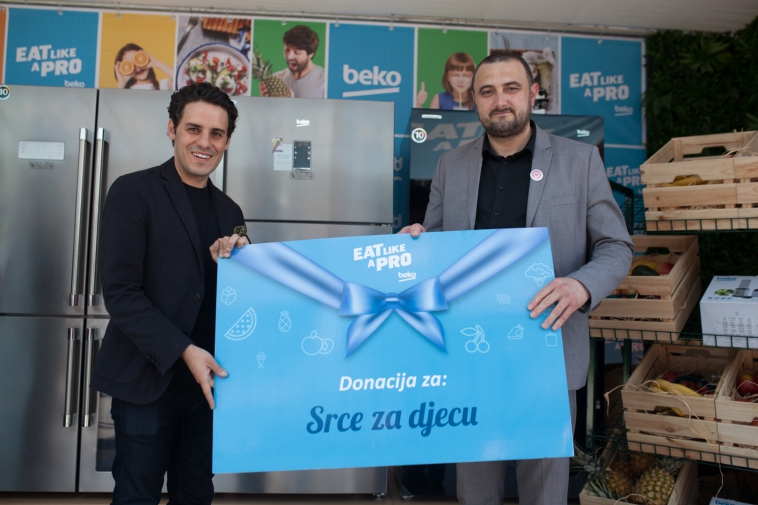 Beko equips Parents' house of the Association "A Heart for Children"
Beko, following a series of successful activities on the global level within its Eat like a pro platform aimed at raising awareness of the importance of healthy nutrition and fight against children's obesity, has started a cooperation with the Association "A Heart for Children with Cancer in FBiH" and has handed a donation in goods to this Association. The donation consists of kitchen appliances and devices which will be used for preparation of healthy food per tailored regimes for children during treatment and thus the donation will contribute to their speedy recovery.
Beko handed the donation to the Association "A Heart for Children with Cancer in FBiH" within its regional "Eat like a pro" roadshow which will take place in regional countries during May and June. Within this event, Beko hosts culinary workshops with famous chefs, and in Sarajevo, it was Nermin Hodžić, executive chef, who cooked with visitors. During the event, chefs are preparing food per recipes from "Eat like a pro" cookbook, i.e. recipes used to prepare food for football players of FC Barcelona, as a good opportunity for both parents and children to include healthy, fast and delicious meals into their diet. On top of culinary workshops, there will also be prize contests for smoothie preparation for the visitors and football competitions for children. In addition to these entertaining elements, visitors are also able to see and test the new line of built-in and free-standing appliances.
 "We are proud to be contributing to the crucially important initiative undertaken by the Association "A Heart for Children with Cancer in FBiH" with this donation", Burak Kiroglu, Country Manager Beko Balkans, said and added: "We all have a responsibility to create a solid basis for children to eat healthy and grow up healthy by introducing good dietary habits every step of their way, and with a wide selection of smart and useful technologies which simplify preparation of healthy food, Beko is proud to support families all over the world."